A professional home inspection is an essential step in the home buying process. In this quick post, we'll talk about what a home inspector typically inspects — and how to get an inspection that inspires your utmost confidence.
What to expect when they're inspecting
With a potential checklist of 1,500 items or more, a home inspection may cover just about everything. The report should include a house's interior and exterior, electrical systems, grounds, plumbing, and much more. Here are some examples of what you'll see in a thorough, professional inspection:
Grounds: Checking the property surrounding the home, the inspector will look for things like sufficient drainage, downspouts, and ground grade to avoid moisture issues. Fences, pathways, railings, and sheds will all be inspected. Essentially, if it's on the property, it belongs in the report.
Exterior Support: Next comes the structural integrity of the house. Is the foundation sound, level, and free from damage? Are there signs of stress in the structure, like cracks, leaning, or sinking?
Roof: After checking the bones of the home, the inspector will move up to the roof. This part of the inspection will include the chimney, shingles, gutters, flashing, fascia, skylights, and more.
Exterior: Weather-facing surfaces of masonry, stucco, vinyl, and paint are examined — checking for cracks, rot, decay, and fading. In addition, the inspector will check for proper spacing between siding and the soil (to prevent moisture damage), as well as invasive roots and other potentially problematic issues.
Doors and Windows: Checking the outsides of all windows, doors, and trim, the inspector will look for scratch- and crack-free glass, proper sealing, and frames that are free from rot, warping, flaky paint, and damage.
Interior Structure: Moving inside the house, the next step is to verify the structural integrity of load-bearing structures, walls, and framing. An inspector will also check for stains that could point to water problems, sufficient insulation, functioning heating vents, and more.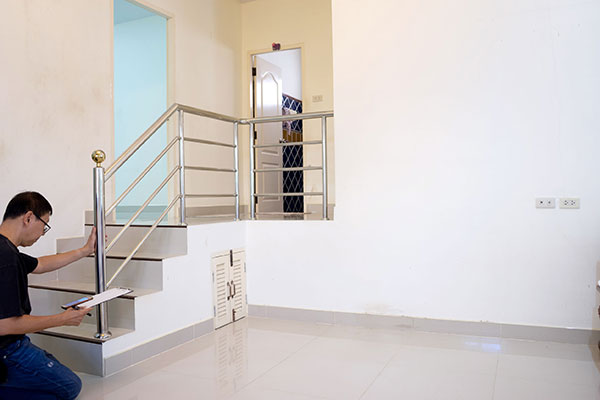 Kitchen: Is the kitchen safe and up to code? For example, the stove hood should vent properly, and electrical outlets near the sink need ground-fault circuit interrupter protection. Faucets and the in-sink disposal should be checked for leaks, and cabinets and drawers should be examined for function and condition.
Bathrooms: There are many items to examine here as well, starting with proper drainage and the overall condition of sinks, showers, bathtubs, and toilets, as well as hardware, faucets, tile, countertops, and more.
Plumbing: An inspector should check all plumbing and systems that are reasonably accessible, verifying pressure, heating, and function. The water heater should be checked for condition, function, and age.
Electrical and HVAC: Besides checking outlets and switches in every room, your inspector will make sure the electrical panels are in good condition and that the heating, ventilation, and air conditioning systems work well. All electrical wiring and systems that are reasonably accessible will be examined for safety.
So, how long will all of this take? It depends on the size and condition of the property of course, but you can expect an average home inspection to take about two-to-three hours.
What you can do to help
If you're aware of any problems with your home or have concerns about possible damage, it helps to let the home inspector know beforehand. And as a buyer, if a seller has disclosed information about necessary repairs, be sure to notify your inspector.
If you've made an offer on a house, you'll want to accompany your home inspector as they make their rounds. You'll learn a lot of valuable information about your future home — its systems, how to access them, and potential problems to proactively tackle.
When do you need a home inspection?
Traditionally, a home inspection happens after an offer is made on a house. But HouseCheck recommends that home sellers take care of the inspection up front, because it goes a long way to reducing uncertainty for buyers and sellers alike. It's just one more way that HouseCheck is becoming the go-to resource for home inspection services.
By getting the home inspection handled beforehand, all parties enter negotiations fully informed — thereby avoiding unwelcome surprises. When sellers disclose the true condition of a home before listing it, buyers know exactly what's on the table and can make better decisions. It's a win-win.
If you'd like to know more about the home inspection process or HouseCheck programs, or if you're ready to schedule an inspection, please contact HouseCheck today for more information.
###