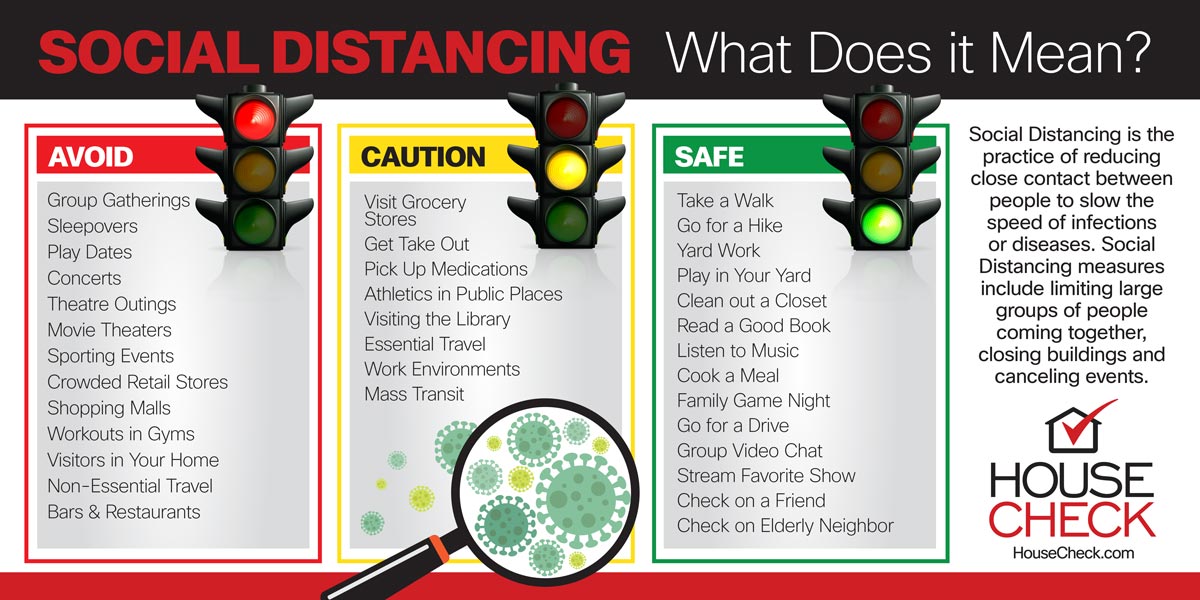 Avoid:

Group Gatherings
Sleepovers
Play Dates
Concerts
Theatre Outings
Movie Theaters
Sporting Events
Crowded Retail Stores
Shopping Malls
Workouts in Gyms
Visitors in Your Home
Non-Essential Travel
Bars & Restaurants
Caution:

Visit Grocery Stores
Get Take Out
Pick Up Medications
Athletics in Public Places
Visiting the Library
Essential Travel
Work Environments
Mass Transit
Safe:

Take a Walk
Go for a Hike
Yard Work
Play in Your Yard
Clean out a Closet
Read a Good Book
Listen to Music
Cook a Meal
Family Game Night
Go for a Drive
Group Video Chat
Stream Favorite Show
Check on a Friend
Check on Elderly Neighbor
Social Distancing is the practice of reducing close contact between people to slow the speed of infections or diseases.  Social Distancing measures include limiting large groups of people coming together, closing buildings and canceling events.
During times like the Coronavirus outbreak, it's important to remain calm, stay informed and use your best judgment. The situation is rapidly changing, and the CDC will update its risk assessment as needed. For additional tips like these, the CDC has released a Coronavirus tip sheet. Visit the CDC's website for latest updates.
Finally, if you're a business owner searching for environmental testing and cleaning, HouseCheck Environmental Services can help protect the health and safety of building inhabitants.
For more information please call (850) 769-8830.
SOURCES:
The Center for Diseases and Control Tip Sheet